If you're just starting out on your entrepreneurial journey, it's only natural to have anxieties and worries about the road ahead.
Whether you've just faced your first setback or are concerned about the future, sometimes you just need to hear some positive stories that help you to see that it won't always be this difficult and that success can await you!
With that in mind, here are some stories of successful founders of start ups who began just like you, struggling to establish their business in an overcrowded marketplace. Take inspiration!
Company Folders – Founder, Vladimir Gendelman
Vladimir Gendelman arrived in the United States with his family as immigrants from the USSR. With under $500, they struggled to get a place to live and the necessities of live, but eventually they began to earn a living and achieve stability.
Gendelman set up his own computer repair shop then launched Company Folders back in 2003. This presentation company rapidly achieved success, winning many awards and making the top 5000 list of America's fastest growing private enterprises two years running. Gendelman freely admits that it is the fear of having to return to his old penniless lifestyle that gives him the motivation to go on and become a success. He has stated that the best sources of motivation come from your own experiences and not from what anyone else can say to you.
Puzzle Break – Founder, Nate Martin
Nate Martin has openly confessed to being possible the worst student who ever succeeded in business. While many entrepreneurs have MBAs or an equally impressive dropout tale, Martin's story of failure isn't an inspiring one. It took him nine years to complete his undergraduate degree. He had already dropped out once, and with only a 2.59 GPA he ended up being rejected from virtually every MBA program he applied to.
Fortunately for him, and indeed for all those who love escape rooms, he was a lot more successful in his business ventures than he was at academic subjects. Puzzle Break now has an annual revenue of seven figures and even though he received no startup funding he has no debts and has grown the business by 100% year after year.
SparkVision – Founder, MaryBeth Hyland
Focusing on building a workplace culture which allows people to thrive, SparkVision is a company which has been built on its founder's survival skills developed over a difficult childhood.
Having suffered from abuse, Hyland learned how to adapt to different situations so as not to provoke her father's anger and mood swings. She learned how to behave and what she should say so that he would stay in a positive frame of mind. While she was initially ashamed of this facet of her personality, she eventually realised that the skills she had developed were valuable in a business context. She built her business on empowerment and human connections and uses her gifts to help other people to enjoy better day-to-day interaction experiences.
Optime Consulting – Founder, Maria Merce Martin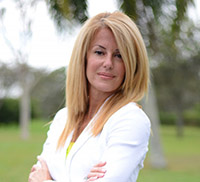 It was always Maria Merce Martin's dream to become a successful enterprise owner. So much so that she dedicated her life to following this passion. Struggling against the odds in a male-dominated working environment, Martin moved to the USA after Chavez was made president of Venezuela. Her computer engineering degree put her in direct competition with native male applicants, however her vision drove her to succeed. She set up her own business, Optime Consulting, which has proven to be a success. So much so, that it now grosses around $12 million in annual sales.
She believes that focusing on her goals has been the driving force in her achievements, and the need to silence the nay-sayers with her results.
CorpNet.Com – Founder, Nellie Akalp
If you've been hesitating to go into business with your life partner due to all the negative stories you've heard, here is one positive one to make you reconsider. Nellie Akalp ignored all the advice about not setting up in business with her husband not just once, but twice! As newlyweds, they set up their first company in 1997 right in their own front room. That business was sold just eight years later for an impressive $20 million. Not content with this success, they then set up CorpNet.com and despite having four children together, the couple are closer than ever!
Wine & Design – Founder, Harriet Mills
Harriet Mills had to face adversity when she was suddenly let go from her job just after giving birth. With almost no savings in the bank Mills amazingly didn't panic but instead took an art class. It was this which inspired her to set up her own business, Wine & Design, an idea which not only caught on in her local community but spread to 75 different locations nationwide.
GooRoo – Founder, Scott Lee
Lee attributes his business success to the two years he had to spend doing military service in South Korea. While he admits that the training in combat was brutal, he found it an exceptional training ground to prepare him for entrepreneurial life. The problem solving and team building skills he developed during those two years in the army helped him to face the obstacles and challenges of small business ownership and set him on the path to success.
What Can We Take From These Stories?
These stories are inspiring tales of entrepreneurship, sometimes against all the odds. These stories go to prove that there are no obstacles so great and no challenges so insurmountable that they cannot be faced and overcome.
They also show that there is no single way to start up a successful business. The key to long term success lies in following your heart, using your instincts and common sense and managing the stress in healthy ways. If you're ready to start your own business, or are already on that journey to entrepreneurship, take your inspiration from these fascinating stories of business success and prepare to launch your venture with a positive outlook and a strong vision.